by commissioning me, you agree to my Terms of Service
Thank you for showing your interest in commissioning me!
I currently only offer lines and colored lines.To note:
All prices below refer to full-body sketches.
In regards to multiple characters, each additional character is subject to the default price. (i.e. Two lined characters is $300, three is $450, etc)
Additional charges may be applied if I deem the commission is too complex for the default price. This will be at my discretion. See below.
For coloring and editing, please see:Terms of ServiceLINES $150
You will receive a flat .PNG with a white background. If you would like to color or use for layout purposes, you may request transparency.
The transparent image MAY NOT be uploaded by itself.COLORED $250
This tier will include all character markings and tattoos, as well as subtle shading. You will receive a flat .PNG and may request a transparent background.COMPLEXITY FEES
If your commission is too complicated for the normal line or colored price, a complexity fee will be added at the artist's descretion. This usually varies between $5-$25, and may include armor, complicated patterns, and excessive limbs. This fee will be discussed before an invoice is sent.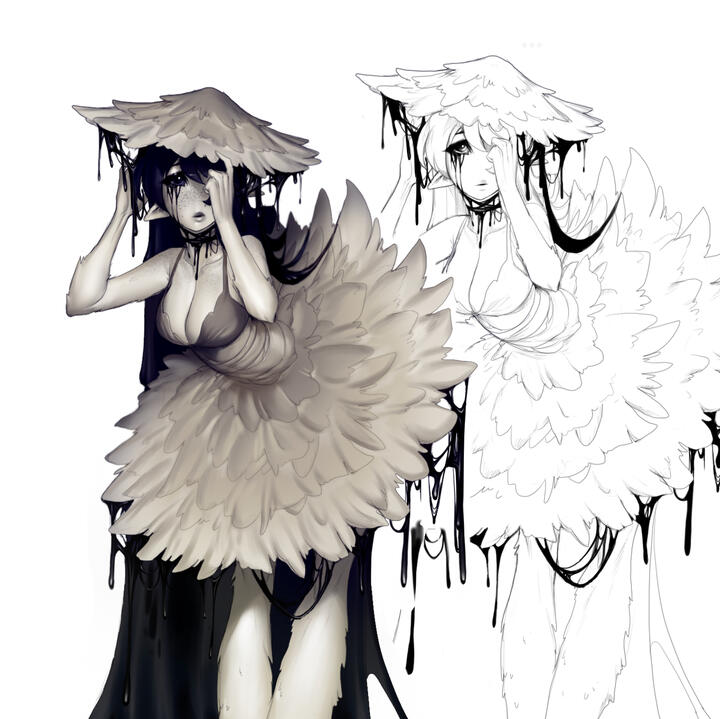 Current Status: CLOSED
Past Commissions
[may contain NSFW]
Terms of ServiceHello, and thank you!
For further questions and commercial inquiries, please email me at: [email protected]BY COMMISSIONING ME, YOU AGREE THAT YOU ARE 18 YEARS OF AGE OR OLDER.PAYMENT/REFUNDSFull payment must be issued before I start the image.⛧ I will accept a partial payment, as long as the full payment is received within a week. If a partial payment is required, please discuss this with me beforehand. If full payment is not received, your commission will be dropped. If you sent a partial, it will be refunded.⛧ I will send an invoice to you for payment. Any payment received outside of the invoice will be considered a donation, gift, or tip.⛧I only accept PayPal. Alternate currencies may apply, but only in very rare circumstances. Feel free to ask if I'm willing to accept game currency, points, or subscriptions.⛧ I reserve the right to cancel your commission at any time. If I decide to cancel your commission, you will receive a full refund, regardless of the progress I've made.⛧ If you decide to cancel your commission, you will only receive a full refund if it has yet to be started. Otherwise, your refund will be determinate on the amount of work complete.⛧ A REFUND WILL NOT BE GIVEN IF THE ARTWORK IS COMPLETE.REGARDING YOU, THE CLIENT⛧ You MAY repost your commission as long as proper credit is given. You may also crop said artwork for avatars or banners, but you may not repost a full, HD image without my signature and a link back to my page or my original submission.You MAY NOT commission characters you do not own without the original owner's consent.⛧ You MAY NOT create copies, prints, or other merchandise with the intent to sell or for profit. Any and all merchandise created by the client should be for personal use only.⛧ PLEASE LET ME KNOW BEFOREHAND if your commission should remain private. I will respect and retain your privacy if desired.⛧ You have the right to issue takedown notices of images posted without your consent or my own.REGARDING ME, THE ARTIST⛧ I own all copyrights of the commission. I also reserve the right to copy, reproduce, and reuse the image for self-promotion and sales.⛧ I reserve the right to take as long as I like on a commission unless a due date is previously agreed upon.⛧ I reserve the right to refuse a commission under any circumstances.
EDITS AND CHANGES⛧ You may request changes up to three (3) times before I no longer accept them. This does not include communication errors or mistakes on my end.⛧ You MAY NOT edit or trace the commission yourself, or contact another artist to do so.⛧ You MAY color lineart or paint over a sketch, as long as there is a link to the original sketch, as well as a clear distinction between the content provided and my own content.⛧ You MAY crop or edit for layout purposes, icons, banners, etc. as long as the original content of the artwork is not edited.
FUTURE CONS
N/APAST CONS
Otakon 2022 [Washington, DC]
SoonerCon 2022 [Norman, OK]
Smallville ComicCon 2022 [Hutchinson, KS]
Colossalcon Prime 2022 [Sandusky, OH]
Fanime 2022 [San Jose, CA]
Colossalcon Texas 2021 [Round Rock, TX]
Colossalcon 2021 [Sandusky, OH]
Pacific Media Expo 2020 [ONLINE]
Sinister Creature Con 2020 [Sacremento, CA] [CANCELLED]
Air Capital Comic Con 2019 [Wichita, KS]
Colossalcon 2015 [Sandusky, OH]
ZIPCON 2015 [Akron, OH]
Colossalcon 2014 [Sandusky, OH]
ZIPCON 2014 [Akron, OH]
ZIPCON 2013 [Akron, OH]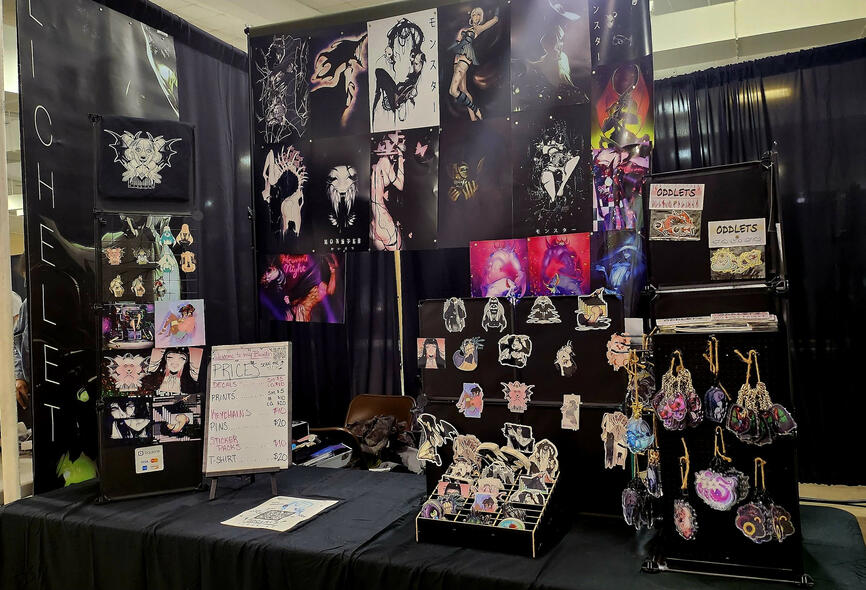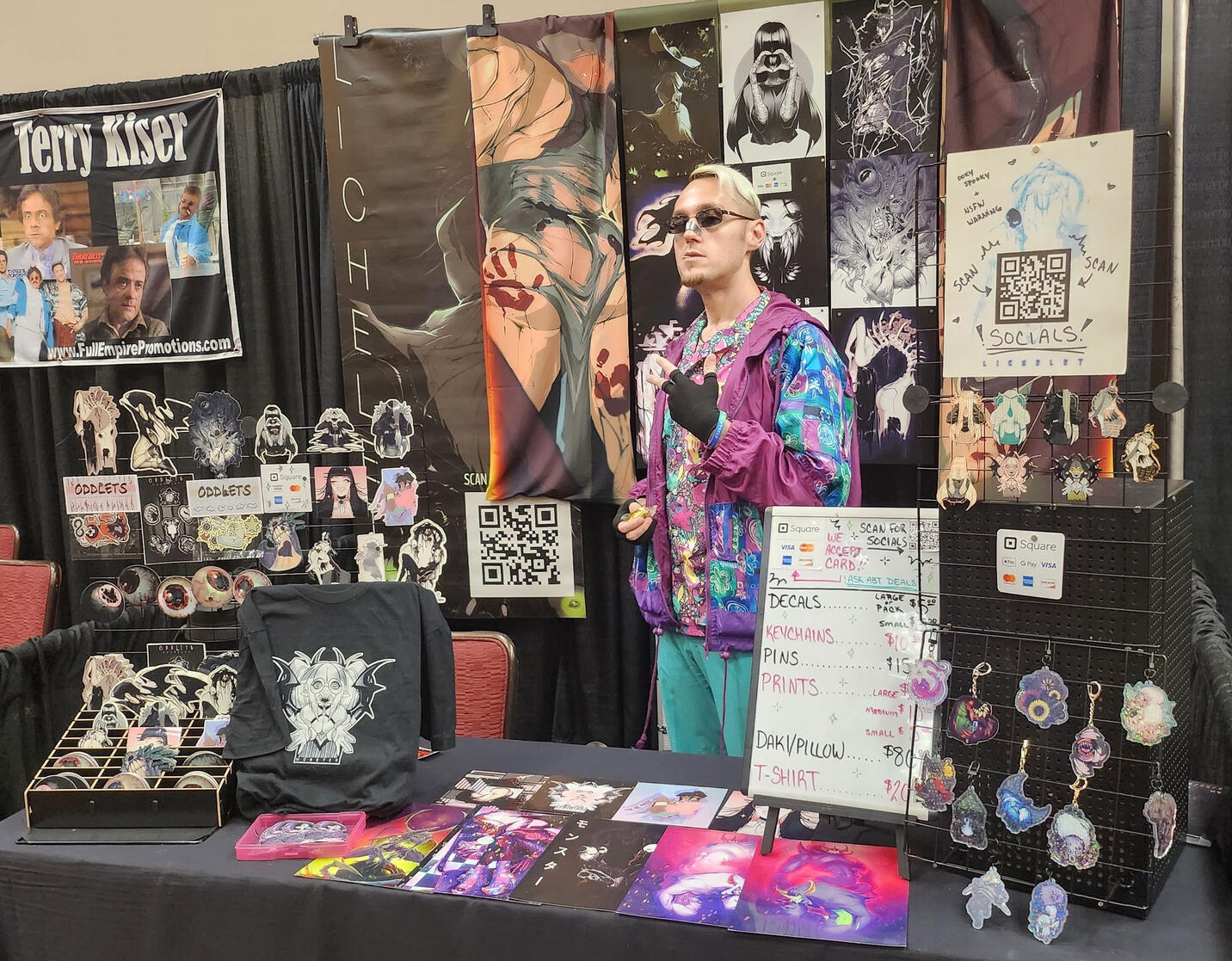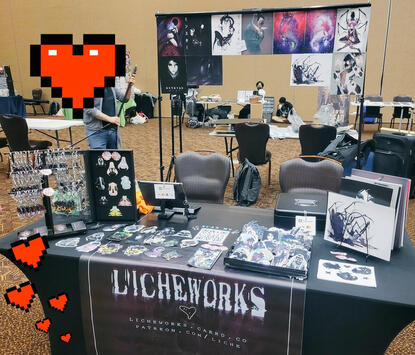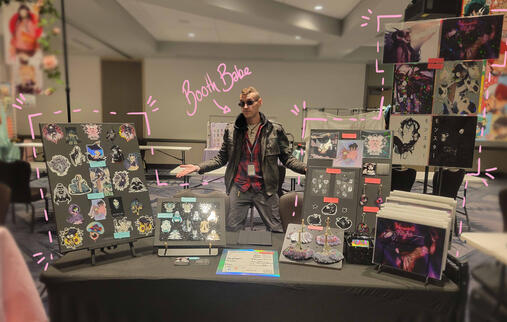 Merch Gallery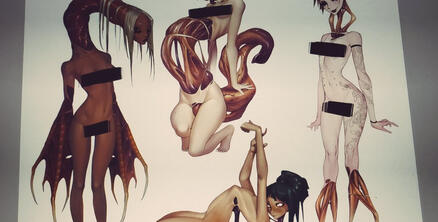 "WHAT ARE ADOPTABLES?"
Adoptables are originally designed characters that are sold or "adopted" to someone else! Once you've purchased your adoptable, you may use the character however you see fit (within the terms provided).
ADOPTABLE TERMS OF USE1) You can resell for the same price you bought or less! Only more if you have additional art.2) You CANNOT change the original artwork.3) You CAN change features/gender in your own work/commissioned work. You can also contact me to change the original art for an additional fee.4) Please credit me when posting the original artwork. Additional artwork doesn't require design credit.5) Creatures aren't part of any specific species, but I reserve the right to reuse any features or similar visuals for future adopts/drawings.6) Designs may be used monetarily, but you MAY NOT use the original artwork to create merchandise or products with the intent to sell.7) If you break these terms, I reserve the right to reclaim the adoptable by returning half of what you paid for it and reselling the design.8) My PATRONS will always get first dibs on adoptables! There is an early claim fee for doing so, however.9) These rules apply only to me and my adoptables and other adoptable sellers may not use the same terms. Please do your research.
BY PURCHASING ADOPTABLES FROM ME, YOU AGREE YOU ARE 18 YEARS OF AGE OR OLDER AND TO FOLLOW THE TERMS LISTED ABOVE.
❤
---
Previous Adoptables
(ALL SOLD)
---